CAT FACTS
Get the lowdown on the coolest cats around.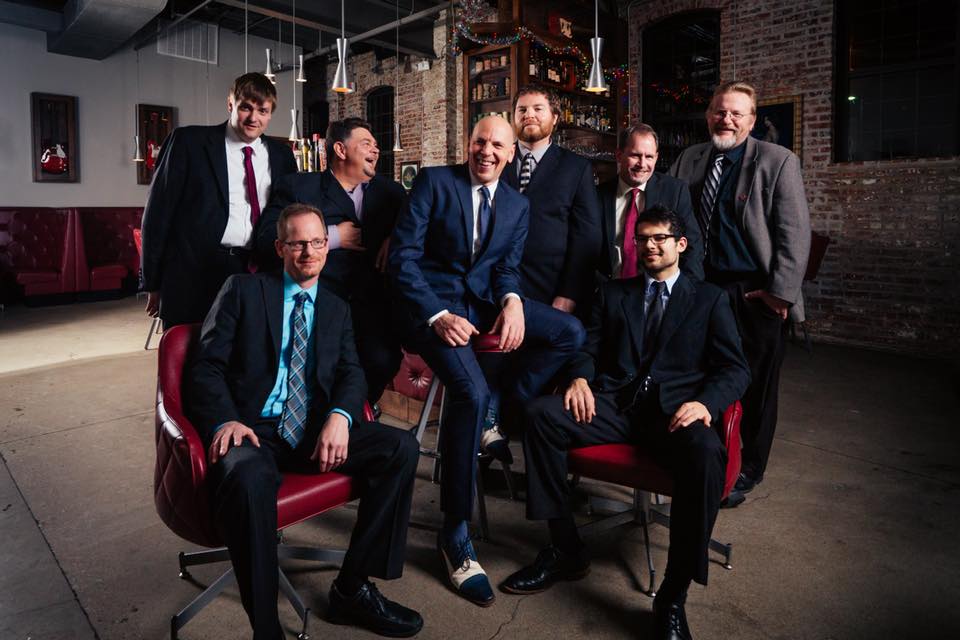 (left to right) Andrew Janak, Dan Schoening, Craig Crilly, Jeff Koterba, Jason Grotelueschen, Jeff Schoening, Stephen Cantarero, Kevin Linder.


Prairie Cats hail from the very heart of the heartland: Omaha, Nebraska. Formed in late summer of 1998, the 8-piece band delivers an all-original "pop-swing" mix of jump-blues, big band, rockabilly, latin and bop, delivered in an all-out rock attack. But it all swings, Jack...make no mistake about it.

Prairie Cats have been rocking numerous venues and festivals, drawing rave reviews and pulling together a loyal fan base of the finest cats and kittens. They've opened for the likes of Royal Crown Revue, Indigo, Big Six, 8 1/2 Souvenirs, Love Dogs, Red Elvises and The Camaros, and headlined shows at major hotspots like L.A.'s famous Derby, the World Trade and World Financial Centers in NYC, and the prestigious South By Southwest music festival in Austin, TX. They remain one of the top draws in the Midwest, whether it's at one of their packed club dates or at outdoor shows like their record-breaking Jazz On The Green 2001 and 2003 performances in Omaha, each attended by more than 6,000 fans. All while having more fun than you can shake a martini at!

The band's much-anticipated second CD, "'til the daytime fades," was released independently in April of 2001 through the Cats' own Behave Records label, and is available at regional Homer's and Borders locations and distributed worldwide by Hepcat Records based in Anaheim, Calif. The album features 14 diverse original tunes, recorded and mastered by esteemed engineer Jim Homan at Omaha's Ware House Studios. The album is already garnering rave reviews, and truly captures the energy and versatility that have endeared the Cats to their fans and solidified the group as one of the region's top bands on the scene.

The Cats' successful debut CD, "The Big One," was released independently in the summer of '99. It was one of the top-selling CDs at Omaha's Homers record stores that summer, and was recognized as one of the top albums of the year by Swanktown, a radio show in the Twin Cities.

So slip on your finest fines and head on downtown for the Cats' next gig! A good time is guaranteed, you swinger, you!


NEED CAT STUFF for yer fancy-schmancy newsletter, poster or pamphlet? Then GET TO DOWNLOADIN'...our new print materials are now available online...
Get a smooth, printable .doc version of the Cats' bio (314K). Or, grab an equally smooth .doc of our press quotes sheet (315K). If a higher-res photo is what you seek, here's one. (JPG format, B/W, 620K).





Jeff Koterba
(Daddy K.)
He's the fearless bandleader, guitarist, principal songwriter and vocalist extraordinaire, Mr. Jeff "Daddy K." Koterba. The Cat that makes it happen! The catalyst...the sparkplug...the...well, you get the idea. Jeff's high-energy performance on the stage brings the Cats to life, and keeps the ladies swooning. He loves attention, so lay it on thick...




Larry Frederickson
The music man! Larry's skills on the stand-up bass keep the groove going strong, and his musical versatility and know-how is behind most of the fine arrangements you hear from the Cats. He also shoulders a bulk of the Cats' vocal chores, works the stage and recording studio like a champ, and serves as one-half of the world-famous "Randy Quaker" rhythm section...




Jeff Schoening
The other half of the aforementioned "Randy Quaker" rhythm assault. Jeff keeps the Cats driving hard with his mind-blowing drumwork and toe-tappin' rhythms that keep the crowd moving...and by penning one of our big hits on the latest Cats CD, he's making his presence felt as a songwriter. And he's R-R-RANDY, BABY...'nuff said.




Craig Crilly
Our fans know cool...and Craig is definitely it. Craig holds down the fort on tenor sax and the occasional clarinet, and lectures the rest of the band on the finer points of etiquette and social graces. Say "HIYA" to Craig (he's from Red Oak, Iowa, so be gentle) the next time you see us out and about...




Steve Britt
The newest Cat (A.K.A $.50) comes from St. Louis and has joined the Iowa ranks assuring a mutiny. Sultry sax sounds and good looks make Steve one cat you dont want to miss.




Kevin Linder
As the fourth Iowan to join the ranks of the Cats, Kevin (from lovely Sioux City) has evened the ratio of Nebraska Cats to Iowa Cats...it's a mutiny in the making (although Kevin's blood does run Husker red)! Kevin brings a high-energy style to the mix...and he's a friendly chap, to boot!




Dan Schoening
You know him, you love him...it's the Red Rooster! Dan's trumpet, t-bone and versatile brasswork (and occasional vocals, if you're lucky) keep the Cats smokin'...heckle him at our next gig, and watch him blush...that's how they react to that sort of thing, down in Glenwood.

Honorary P-Cats 4 Life:

Erik Johnson, alto sax. Known to loyal fans as "Bleeding Gums," (sorry, Erik!) Mr. Johnson helped pack a punch in the free-wheelin' Prairie Cat horn line. Despite the nickname, he has fine dental hygiene and is truly a model citizen and a fine gentleman. Really. (ahem) Honest.

Jason Grotelueschen, t-bone, guitar, accordian, vox. Jason moved out to Seattle with his wife in January '02, and unfortunately had to step down as as active Cat. He still heads back for a visit now and then, so beware!

Amy Stickney, sax, clarinet, vocals and "looking sassy." Amy left our happy gang in December '99, to pursue her scholastic exploits, and we miss her. You should too! As the lone kitten in a band of ugly cats, she always kept us in line (we're doomed now, with a new all-male lineup...oink!), and she consistently kept the crowds in awe. Prairie Cat SALUTE...to lovely Amy.

Jim "Musclecheeks" Larson, trumpetmaster. Jim parted ways with the Cats in early February 2000, to pursue other interests. Those who know the Cats are well aware of Jim's impact as a brass-kickin' presence. We'll miss ya, Jim...

Bryan Morhardt, drums & percussion. Bryan joins us on stage every now and then, which is always a good thing. Scream at him and throw money when you see him grace the stage...

NEWS | FACTS | GIGS | TUNES | PICS
LINKS | PRESS | DISCS | CALL
Copyright 2001, Prairie Cats